The results of the presidential elections had a negative effect on the peso, since today a dollar costs $4,068.60, $292 more than at the beginning of this month.
In fact, according to a Bloomberg index, the Colombian currency was the second most devalued yesterday, with a decline of 2.16%. It was followed by the Chilean peso (-1.79%), the Icelandic krona (-1.29%) and the Hungarian forint (-1.28%).
The price of the dollar has registered an upward trend since it became known that Gustavo Petro will be the president of Colombia in the next four years. Only on Tuesday, the price rose $122.
"This is consistent with a devaluation close to 5%, similar to that observed in Chile and Peru after similar electoral results in those countries. Depending on the announcements of the new government, especially on the formation of his cabinet and who will be in charge of the Treasury portfolio, there may be some gradual correction in the following days, "said Julio César Romero, chief economist at Corficolombiana.
Yesterday, the price closed at $4,068.60 on average, which represented an increase of $42.08 compared to the current Representative Market Rate (TRM) ($4,026.52).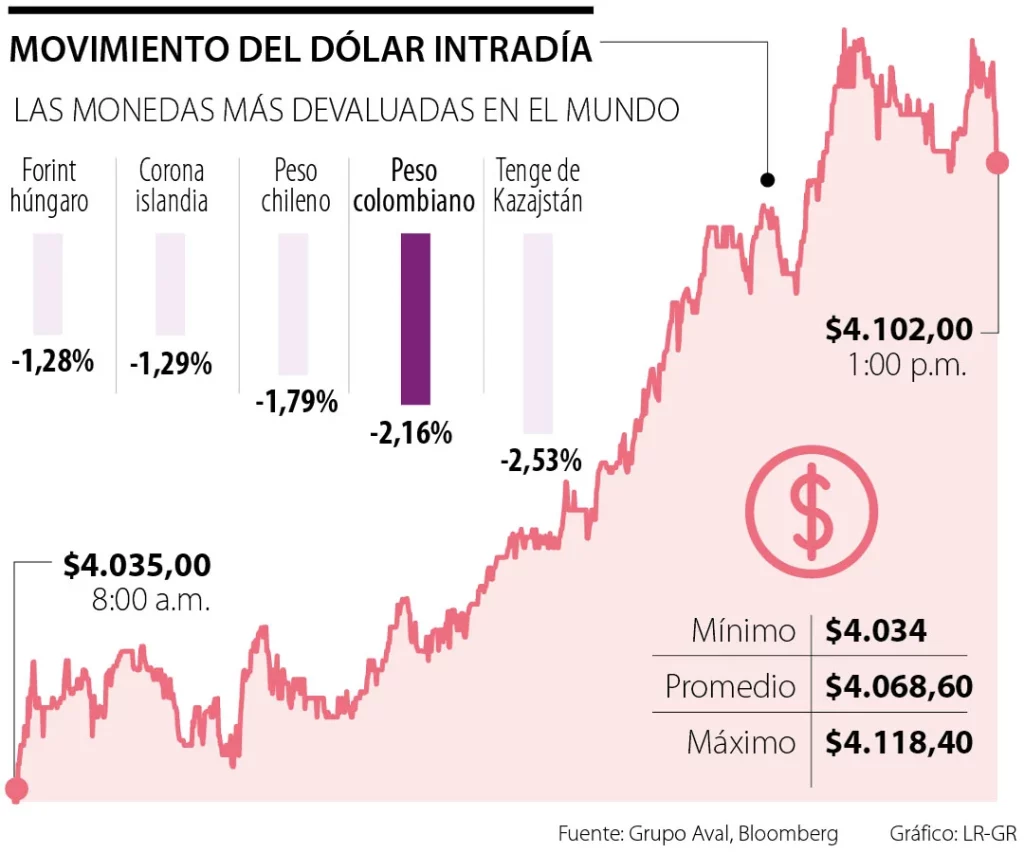 The currency's move was in line with falling oil prices, which extended losses as investors reassessed recession risks and how fuel demand will be affected by rising interest rates for part of the United States Federal Reserve (Fed).
At the close of this edition, a barrel of Brent oil, a benchmark for Colombia, fell 1.70% to US$109.84; while West Texas Intermediate (WTI) fell 1.81% to US$104.27.
"Recession fears have gripped the markets, but the mood is more one of fading optimism than rising pessimism," Norbert Rucker, an analyst at Julius Baer, ​​told Reuters.
According to Juan Eduardo Nates, senior foreign exchange associate at Credicorp Capital, in addition to international factors, currency volatility will depend on the announcements made by the President-elect regarding his government program.
"The volatility is going to come every time he makes announcements about members of his cabinet and about how he is going to execute his proposals, especially the pension and tax," Nates said.
Related Posts