Colombia a comedy of errors tells the story of all forty-eight million Colombians, examining the country's history, people, culture, colombianomics and justice. It is a funny, full-colour book that became a bestseller in Colombia in the first month of its release. The book was written by British journalist Victoria Kellaway and Brit-Colombian artist and writer Sergio J. Lievano and reveals the secrets behind a nation that has drama and comedy seeped into its bloodstream. The pair study the country with an eye for detail that will surprise everyone, from the most knowledgeable reader to those who don't have a clue about the country.
About the Second Edition: Colombia a comedy of errors
You may remember our first book was something of a 'garage effort'. We tried our best to capture Colombia's culture, history, contradictions, attitudes and citizenry in a snappy survival guide that had a bit of satire, and a lot of fun.
We never expected the warm reception the book received. Nor that it would be as popular as a gift among Colombians as it is among visitors. Not only was the book a sell-out, it ended up in the Nobel Peace Centre and the Harvard Library, as well as becoming a key text on business administration, intercultural communications, and Latin American studies syllabi worldwide.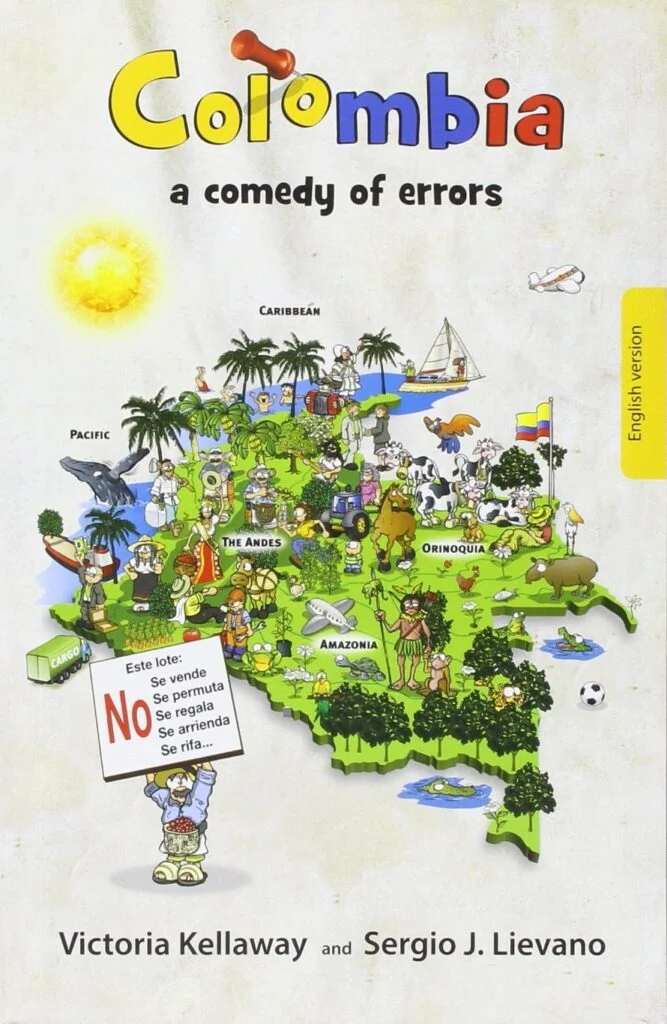 We think our second edition is even better.
We've included new chapters on Dating, Beauty and A to B. We fully expanded the Justice section, which gives the book its name: Colombia a comedy of errors. We poured a whole lot more love into telling the story of Colombia, basically.
I've sent this email to friends, contacts and acquaintances, old and new, those with whom I've bonded over Colombia, and Latin America, and those who still wonder how I ended up here.
I won't be writing again, but you're welcome to write back and say: "No thanks Vicki, I'm the kind of person who writes Columbia not Colombia," in which case I have to delete you from my contacts anyway. You know it's a prerequisite of my visa!
On that note, if you do search for the book on your local Amazon, the site may think you meant to write 'Columbia a comedy of errors' and tell you the book doesn't exist! I know! If only algorithms could read…
You may purchase this book in Amazon