For the last few weeks, we've been completely obsessed with Paramount+'s Wolf Pack starring Sarah Michelle Gellar. The teen drama series is an adaptation of Edo van Belkom's novel of the same name and sees a group of teenagers' lives change when a Californian wildfire awakens a supernatural creature.
After the eighth and final episode aired last week (16th March), we're desperate to know will Sarah Michelle Gellar and the rest of the cast return for a season 2? Here's everything we know so far.
What is Wolf Pack about?
Wolf Pack is a drama series on Paramount+ about two teenagers Everett (Armani Jackson) and Blake (Bella Shepard) whose lives are changed forever when they get caught in a Californian wildfire and a supernatural creature awakens.
They end up getting wounded by the mysterious creature and eventually realise they have become werewolves.
Everett and Blake become drawn to each other and soon team up with two other teenagers, Luna (Chloe Rose Robertson) and Harlan Briggs (Tyler Lawrence Gray) who were adopted by a park ranger, Garrett Briggs (Rodrigo Santo), who also went through a similar experience in the woods 16 years ago.
Sarah Michelle Gellar's character Kristin Ramsey, is an arson investigator, hired to find out what caused the fire to happen which awoke the beast.
Will there be a season 2 of Wolf Pack?
As of yet there has not been an official confirmation Wolf Pack will be getting a season two.
However, Sarah Michelle Gellar, who also serves as executive producer on the series, has shared there is a lot of excitement for another season and they are working towards getting it green lit.
Speaking to TV Line she said: "We have a writers' room open, and we're preparing, but everything is in flux right now with the strike. I think that's the biggest issue. But the numbers, the fans — everybody wants Season 2." Exciting!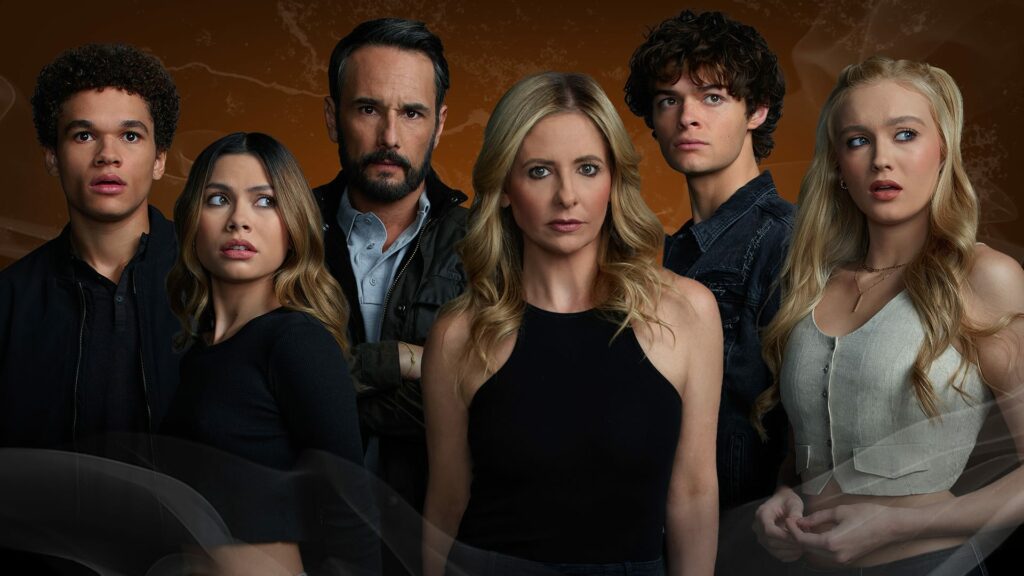 What could happen in season 2 of Wolf Pack?
Until the season has been confirmed we won't know for certain what a second season of Wolf Pack could cover, however given how the first one ended there are certain things that would need to be addressed.
Most importantly there's the major revelation that Kristin Ramsey is in fact a werewolf and the biological mother of Harlan and Luna. And let's not forget that Baron is their brother too! Talk about plot twist.
The season ended with Baron giving Garrett a look that many people have interpreted as a suggestion Baron will be turning Garrett into a werewolf too. But as the episode ended with the fade to black, we won't know for sure what happened there unless there's a season two.
Who could return to Wolf Pack season 2?
We can't imagine Wolf Pack without its main cast members, so we'd hope Sarah Michelle Gellar, Armani Jackson, Bella Shepard, Chloe Rose Robertson, Tyler Lawrence Gray, and Chase Liefeld would return.
Depending on what happens with Baron turning Garrett into a werewolf, we'd certainly hope to see the return of Rodrigo Santoro too.
Wolf Pack is available on Paramount+ now
Paramount+'s Wolf Pack drops all available season's on Paramount+, and in its fifth episode, entitled "Incendiary," it comes a ton of twists, including a mother of a reveal from Sarah Michelle Gellar's arson investigator Kristin Ramsey.
In the above exclusive sneak peek from the hour, the dogged LAFD specialist drops a bit of her guard to share a private, pivotal detail about her personal life with park ranger Garrett Briggs (Rodrigo Santoro) after he explains how he came to adopt abandoned cubs, err, kids Luna and Harlan (Chloe Rose Robertson, Tyler Lawrence Gray). She's a parent, too. Or at least was?
You'll also notice that they seem to be in a familiar location. Why they're at this particular hot spot is not for us to spill, but we can say that the case of "who began these wildfires wiping out the area?" is definitely heating up, as are things between newly infected high schoolers Blake (Bella Shepard) and Everett (Armani Jackson). In fact, this standout episode could be re-titled "Bodies, Bodies, Bodies" thanks to a pool party where there are more half-dressed hookups than a Euphoria marathon and, later on, a major "Nightmare on Elm Street 2: Freddy's Revenge" courtesy of a very hairy uninvited guest.
By the end of the episode, theories will abound about who and what Kristin Ramsey really is, but don't jump to any conclusions too quickly. The cliffhanger we're left with could go a few different ways and Pack is only halfway through the first season. There are still plenty of full moons to survive before anyone gets close to a happy ending in this fairy tale.
Wolf Pack wrapped its first season on Thursday, dropping a series of reveals that will leave viewers salivating until Paramount+ grants it a renewal. (Paws crossed!)
For starters, Kristin Ramsey isn't your run-of-the-mill werewolf masquerading as an arson investigator — she's Harlan, Luna and Baron's mother! She's also the show's mysterious arsonist, having set the fire to force big, bad Baron out of hiding.
One mystery that remains is the identity of the unknown caller (my money's on the trio's bio dad), who explained to Everett and Bella that their powers are directly tied to Baron's. Honestly, after everything we've digested during the past few episodes, a recap of exactly how this pack's powers work was much appreciated.
Open for free your account on Paramount+ and watch movies and series like The Rookie, Tulsa King, or Star Trek: Strange New Worlds. Also you may watch the NFL, NBA y other Soccer Leagues like UEFA.
Keep Reading